Stunning Places in the Middle East for Your Bucket List
Culture, religion, history – the Middle East has been one of the most important crossroads on the planet. World-famous attractions and stunning historical locations attract people from all around our planet and make this one of the top places to visit. Making your travel plans can't go without some of the Middle East locations, and this guide is everything you need to decide where to go. Let's check some of the most stunning places in the Middle East for your bucket list and begin your Arabic adventure.
Petra, Jordan
The sight you see after passing through a narrow gorge is a sight you'll never forget. A lost city set in dramatic scenery, among mountains and gorges, is truly a stunning place in the Middle East you should visit at least once in your lifetime. The city of Petra is carved into the rock and shows a delicate work of the ancient Nabateans that lasts for centuries. Visitors come from all over the world, and they are all amazed with every step they take in this place. The whole setting along with detailed carvings make Petra a magical archeological site where you can see the perfect blend of Hellenistic and Eastern cultures. There's a good reason why Petra is named one of the new seven wonders of the world – and it's the reason you should add this place to your travel bucket list as well.
The lost city of Petra – the true wonder of the world.
Cappadocia, Turkey
Cappadocia is one of those places that make you feel you've visited another planet. The unusual setting made of different rock structures hides caves and underground villages that make it difficult to comprehend that all of that was handmade. The unique landforms are best seen from the air, which is why you should try hot air ballooning while visiting Cappadocia. It's a one-of-a-kind experience that will ensure you've got the most exciting memories from Turkey. These tours ensure you comprehend the true beauty of Cappadocia's geography from a colorful hot air balloon, so they are worth every penny. One more thing you should try while visiting this amazing place is staying at a cave hotel. Built into fairy chimneys and rocks, these hotels will help you travel back in time and make unforgettable memories.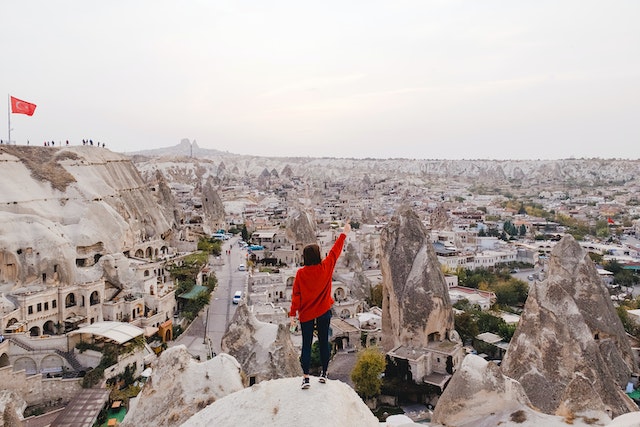 The beauty of Cappadocia can't be described with words – the sights will leave you out of breath.
Hegra, Saudi Arabia
Hegra or Mada'in Saleh is a true gem of KSA for several reasons. Once a bustling trading hub, this place was abandoned over time after the trading shifted toward south. Now we have marvelous legacy of Nabatean's culture and architecture, with over 100 monumental tombs cut into the red sandstone in the middle of the desert. This place is a must-see, especially for people coming to Jeddah or Mecca as expats. You can trust a professional team, and while experts can organize everything to ensure safe transport of your belongings, you can start planning the exploration of the area and a visit to Hegra. One thing is for sure – this amazing place won't disappoint you and it's worth adding it to your bucket list.
Jerusalem, Israel
One of the most stunning places in the Middle East is also the heart of the Holy Land, the place where everything sacred and religious comes from. If you're anything into history, you'll love this place and its story. Attracting visitors longer than any other tourist attraction, Jerusalem will surely provide you with a powerful, memorable experience, as you'll be able to see the glimpse of the ancient world, go back in time through the old streets and bazaars and experience the Hebrew world first-hand. The Holy Land welcomes travelers from all around the world, and Jerusalem is a must-see place if you're visiting Tel Aviv, another Mediterranean coast gem.
The Holy City of Makkah, Saudi Arabia
One more precious location of the KSA – the Holy City of Makkah is the main pilgrimage place for Muslims. It's located in the western Saudi Arabia, and it's the birthplace of the Prophet Muhammed. This is the spiritual center of Islam, and surely one of the main places to visit while in Saudi Arabia. Moving to this beautiful country gives you an opportunity to visit truly remarkable and important spots in human history, but also enjoy great expat benefits. Jeddah is a nearby city commonly chosen by international visitors and expats looking for a way to grow their career. Four Winds KSA suggest settling down in Jeddah safely and without stress, so you've got enough energy to explore this magnificent part of the country. The best way to move and settle with ease is to make plans on time, research every aspect of the move and most importantly – ensure the experts you work with are truly worth your trust. You can start this Jeddah adventure with a smile on your face and make the most out of this Middle East experience.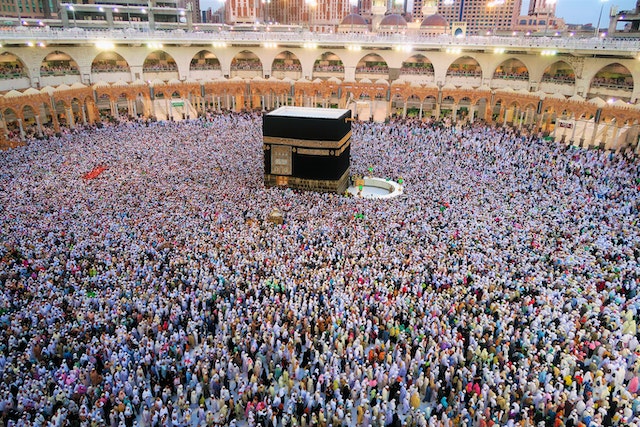 Beloved place in the Islam world, The Holy City of Makkah is a must-see for the visitors of the Middle East.
Dubai, UAE
Finally, we come to one of the most breathtaking places in the Middle East for your bucket list – the city of Dubai. Switch the historical places with a modern twist, as this city is all about modern technology, growth and business development. This is a unique blend of the old and modern world, a place of stunning architectural designs and interesting tourist attractions. Dubai ensures every visitor has a great time and enjoys the utmost luxury and comfort. Luxurious hotels, including Burj Al Arab will lift your accommodation experience on a whole new level, and rich nightlife will show you the true meaning of Arabian nights. Like shiny gem in the sand, Dubai shines surrounded by desert, and it's worth being part of your bucket list.
Have you started making your bucket list? The choices are tough, but making plans on time sets you one step closer to visiting some of the most stunning places in the Middle East and making memories for a lifetime.