Recliners are a piece of furniture with which people have a special connection. What mainly attracts them to these pieces of furniture is the comfort and design that easily fits into any space. So you can have this armchair in your living room, bedroom, or game set-up. There are also models designed for outdoor use, so you can turn your porch or pool deck into an authentic corner to relax.
Although all recliners are made on a more or less similar principle, the complete offer of these chairs can be divided into several 'main' models. To know which one suits you best and fits your budget, you can check this link for more information.
Sleeping Recliners
What's better than a good lunch, after which you sit back in a cozy recliner and take a nap? It won't be hours and hours of sleep but just an afternoon nap. And yet, there is research on recliners as bed alternatives that have yielded pretty good results. Since being in a horizontal position can often be uncomfortable for your neck and spine, lying in an armchair fully adapted to your body is a much better experience.
Since recliners are designed to rest and relax, it's clear that sleeping on them can be quite an enjoyable experience. Sleeping models are larger, with thicker paddings and multiple adjustments for backrest and footrest. So everyone can find the ideal resting position. Sleeping in armchairs may be suitable for people who have a pre-existing medical condition. They are probably not recommended to lie down or sit on completely flat surfaces.
Gaming Recliners
If you have a particular corner in your home for playing games or general entertainment, having a reclining chair in it is a must. You probably spend hours and hours playing games or just hanging around with friends. So this piece of furniture will make your gaming set-up even more comfortable and enjoyable to stay in.
These are not classic armchairs but resemble more of the office seating. Also, they are less bulky than standard models and have a more modern design. Sure, you can lay them back and have a quick nap, but gaming recliners are primarily intended for prolonged sitting.
Visit the next source to learn why long sitting is bad for your health:
https://www.webmd.com/fitness-exercise/ss/slideshow-sitting-health
Gamers often spend a lot of time sitting, which can have significant consequences for their health. That's why gaming recliners are anatomically designed to provide maximum comfort and allow less pressure on the back and neck. They mainly have an ergonomic backrest and waist and spine support system with cozy padding.
Power Lifters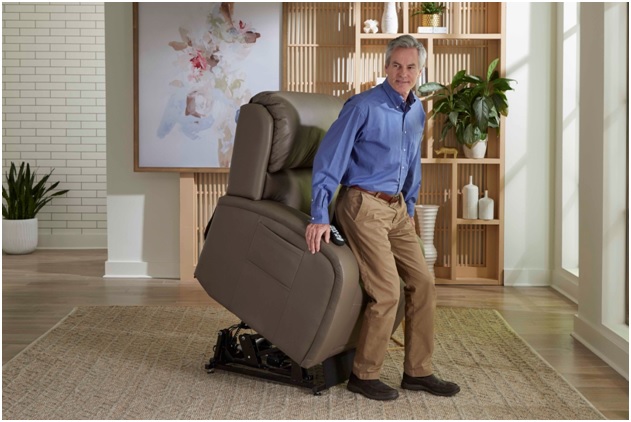 Comfort is what characterizes most reclining chairs. Besides the essential functions of moving the backrest and footrest, you can run onto models that have extra features for more enjoyable rest. For example, these are recliners with a power-lifting option that is very useful for the elderly and people with mobility issues.
Simply, you push a button, and your favorite chair literally lifts you. So it's much easier for you to go up in a standing position. Models with the power lift option are stronger and more durable than ordinary recliners. They usually have great paddings for ultimate comfort.
Reclining chairs with lift options are also more expensive, but for people who need help, these chairs are a good investment. Their mechanisms can carry a weight of up to 300 lbs without any problems. These pieces generally offer several different lifting levels, up to 50 inches. What level you go to depends on how much help you need to get up.
Loveseats
Reclining chairs are comfortable and desirable in any home. If you have a partner or family, single seating won't meet your needs. If you had a small recliner, everyone would probably want to sit in it. That could lead to some not-so-pleasant situations. Joke aside, seating places are certainly not a reason for family fights, but you get the point.
Buying dual seating models, also known as loveseats, can solve your problem. These chairs can host two adults to sit comfortably at the same time. There are even models on the market with three or more seating positions, which are great for entertaining or living rooms.
These chairs are made the same way as standard recliners, except that the reclining and lifting mechanisms are stronger to withstand more weight. Also, makers of loveseats and multiple seating recliners implement more features in these chairs. Some have USB ports, implemented audio systems, cup holders, and even a massage option.
With a variety of reclining chairs available on the market, finding the most suitable one can be a daunting task custom made lift chairs brisbane. That's why you should take some time to research all the options before purchasing. That's the only way of finding a perfect recliner that will fit your room and budget.